What's SEMrush's New Authority Score Metric And Who Are The Winner And Losers?
Some links on this page are affiliate links that will earn us a commission if you decide to purchase their product. If you purchase via one of these links be sure to comment below. We love being able to share the tools we love and hearing about their impact.
June 2023, update—when I first wrote this I was primarily judging the performance before and after the Authority Score (AS) metric change without making any judgment on the new score. Personally, I find the new score less useful because it now takes into consideration organic traffic. Previously AS was a measure of pure backlink equity. Now it's diluted.
It is useful for giving an overall picture of link quality, authority, volume, and organic traffic combined but for details on each more digging should be done. If you have any confusion about this and would like to chat please don't hesitate to contact me.
SEMrush recently updated its Authority Score metric. Authority Score (AS), like Moz's Domain Authority (DA) or Majestic's Trust Flow (TF), is an attempt to mimic Google's PageRank scoring model which causes some websites to appear much higher in search results than others. It's the backbone on which Google search is founded and the reason why it's a billion-dollar business today. We don't have access to it so we rely on 3rd party tools like SEMrush to mimic it for us.
So what has changed? From SEMrush themselves:
Factoring in organic traffic to better judge a site's real value
Factoring in spam signals to resist manipulation
A visualizer in the tool that shows how we calculate the score
A Network Graph report that makes it easier to spot Private Blog Networks (PBNs) and signs of natural/unnatural link profiles
The visualizer is really insightful: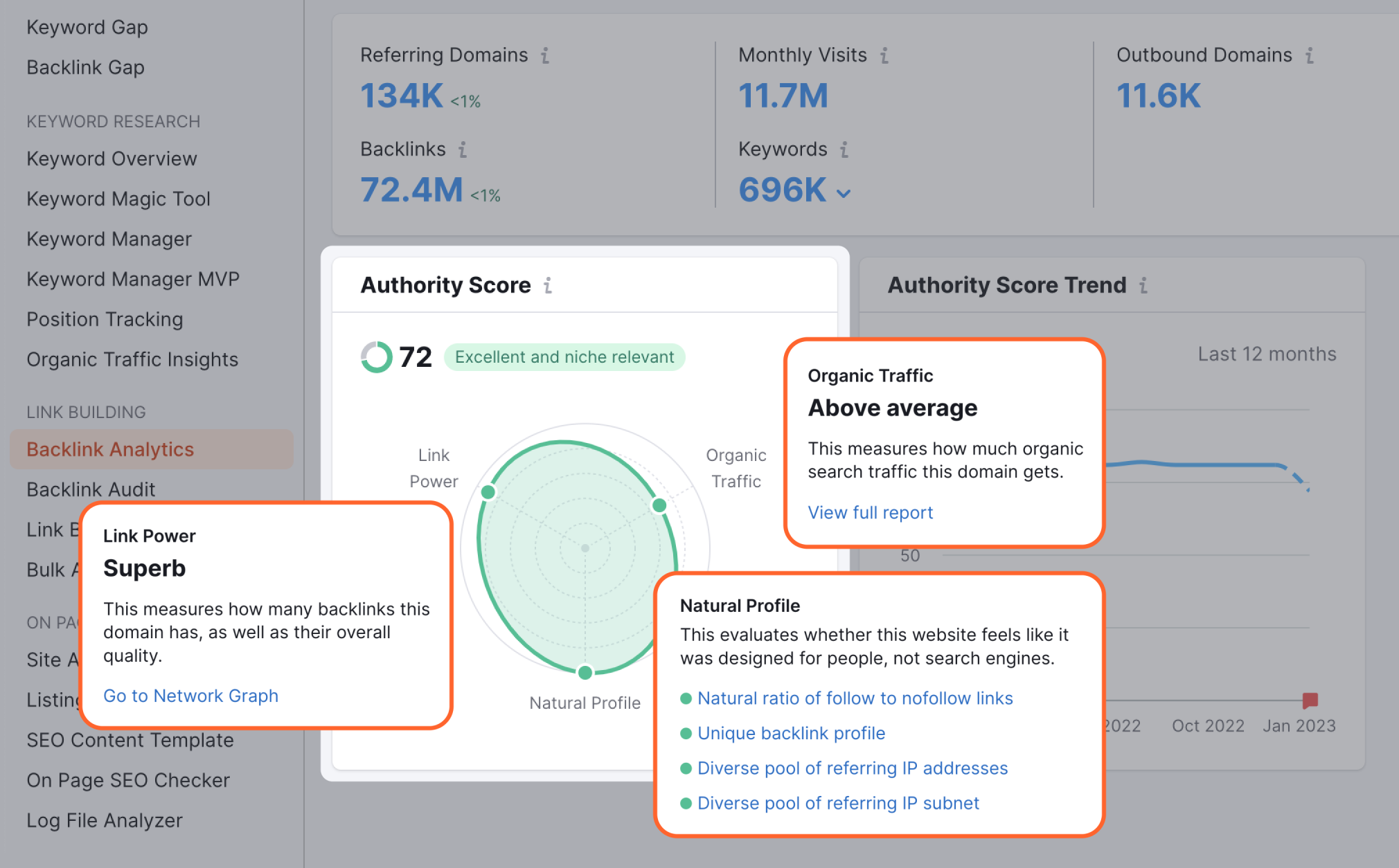 It's split into 3 parts: Link Power (the size/quality of the backlink profile), Organic Traffic (does this then actually correlate to rankings/traffic), and is it a Natural Profile (does it programmatically seem as though this link profile is manipulated or fake in any way?). Clearly, all this gives much more insights to domain owners about what strategy they might need to better curate their own off-page SEO.
So almost every domain has had their AS change on SEMrush in January. semrush.com themselves have even dropped so no claims of bias can be made here:
So what does this mean? Hopefully, SEMrush's backlink scoring is now more accurate in understanding how domains are weighted from Google's perspective. To provide some clarity here I ran some analysis of a random set of top domains (definitely random, not my most visited list of websites) from various places and called out the biggest winners and losers since the change.
Biggest Winners
The biggest winners from a random list of top authority domains. If any trends can be derived it seems like well-established online brands have seen their AS increase.
 Biggest Losers
The biggest losers definitely comprise some more esoteric or select domains. There are a few examples of adult sites that have suffered as well as blogging (blogspot.com) and advertising platforms (like taboola.com).
SEMrush, Ahrefs, and Moz are all on the biggest losers list interestingly. There certainly can't be a claim that there's bias in the model.
Conclusion
Authority Score is the most useful single metric to define the quality of the backlink profile of a domain. This indicates its ranking potential and the value of a link from that domain to your site. However, if you want a pure measure of backlink authority without the newly introduced organic traffic factors then using a count of referring C Class IPs is a better bet.